Five-year Goals and Associated Interim Benchmarks
In January 2017, the Board of Governors of the University of North Carolina unanimously approved Higher Expectations, a five-year Strategic Plan for the UNC System. The Plan calls on the UNC System to achieve ambitious goals in access, student success, affordability and efficiency, economic impact and community engagement, and institutional excellence and diversity.
Progress on these goals and metrics will be achieved through the hard work and commitment of institutional leaders, faculty, and staff. In that spirit, North Carolina Central University has identified these contributions that North Carolina Central University aspires to make to the UNC Strategic Plan over the next five years.
Prioritize
Low-income Completions
By 2021-22, NCCU will produce 961 low-income graduates, an increase of 23.0% (180 additional low-income completions over a base of 781).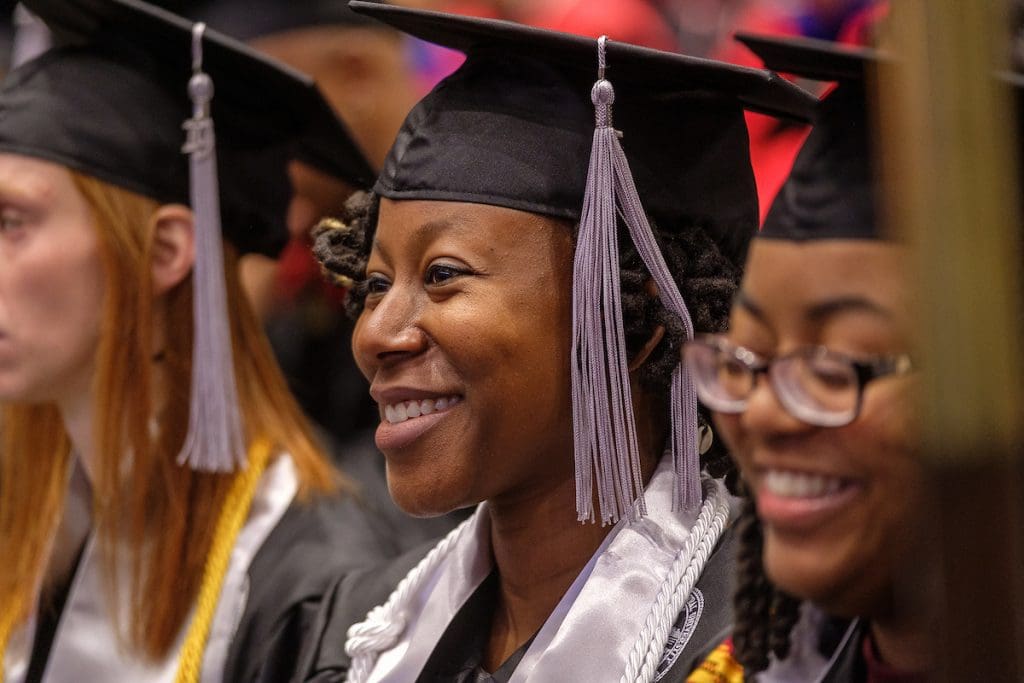 From North Carolina Central University: North Carolina Central University (NCCU) is a historically black university (HBCU) founded in 1910 to provide a liberal arts education for African Americans. NCCU is located in close proximity to the world-renowned Research Triangle Park and is one of the 17 constituent institutions in the UNC System. The university's 2019-2024 Strategic Plan, Charting a New Landscape for Student-Centered Success, aligns with the UNC System's strategic plan metrics. NCCU's mission is to provide underserved populations with greater access to higher education. In Fall 2020, there were 6,067 degree-seeking undergraduate students across all classes. Of that figure, 3,088 (56.4%) were Pell recipients; for first-time new undergraduates, 791 (64.2%) were Pell recipients. The university has a variety of programs available to assist low-income students. For example, the university's End Zone Initiative has been successful in assisting part-way home students in returning to the university to complete their undergraduate degrees.
Click here to edit the advanced iframe block.
---
Rural Completions
By 2021-22, NCCU will produce 400 rural graduates, an increase of 16.3% (56 additional rural completions over a base of 344).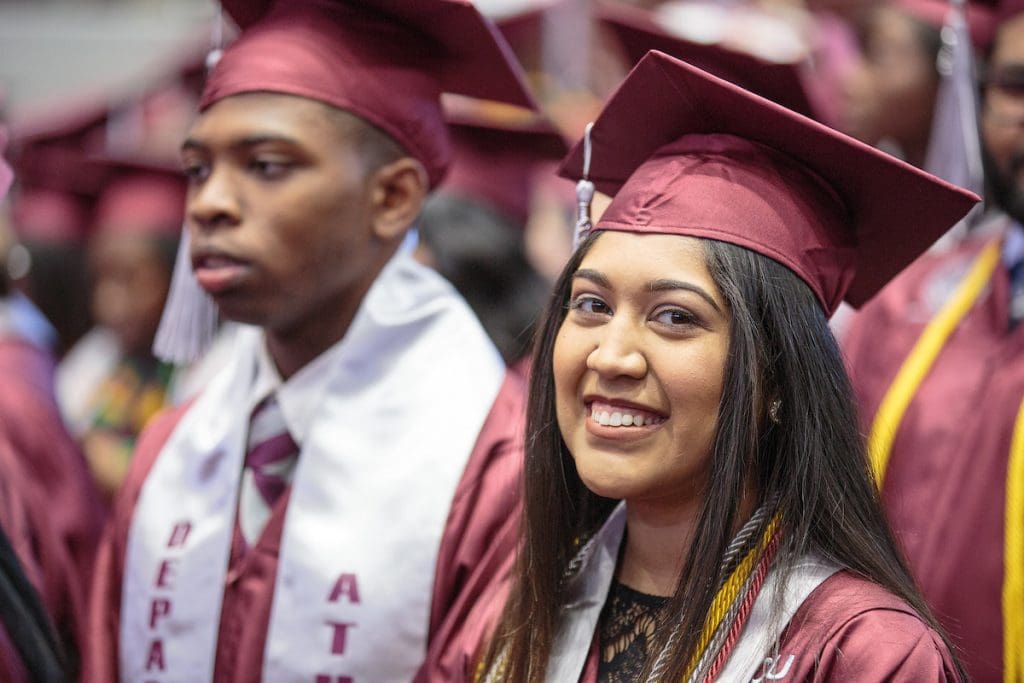 From North Carolina Central University: While NCCU's academic programs attract students from across the state, a major objective is to attract and enroll students from rural areas and provide services to ensure their success. For example, the university is developing programs in rural counties that will improve K-12 education and health care. NCCU's School of Education began working with Warren County Schools in the fall of 2019 through the university's Office of School Partnerships and hosted a classroom management professional development opportunity in October of 2019. Over the past year and despite the challenges presented by COVID-19, the School of Education has met with teachers virtually who are studying for the Praxis exam and has plans for a follow up visit to Warren County Schools to continue support of the county's educators. NCCU has a health disparities outreach effort underway through the university's Julius L. Chambers Biomedical/Biotechnology Research Institute with Halifax County. The university's Office of Undergraduate Admissions is focusing its recruitment efforts on students from rural counties by increasing contact with high schools, community agencies, current students, and alumni who reside in or near rural counties and areas.
Click here to edit the advanced iframe block.
---
Five-year Graduation Rates
By 2022, NCCU will improve its five-year graduation rate from any accredited institution to 51.5%. This is an improvement over a base of 43.8% for NCCU's 2010 cohort.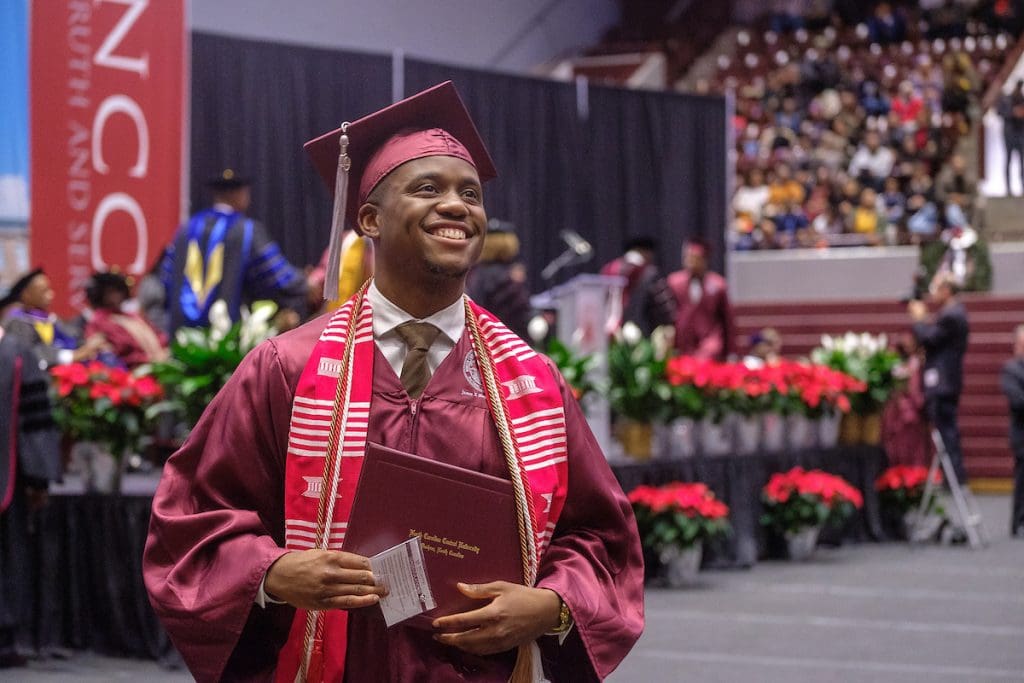 From North Carolina Central University: Time-to-degree is the primary measure of student success at NCCU and the highlight of Chancellor Johnson O. Akinleye's The Eagle Promise, an initiative that guarantees students a degree in four-years if they successfully adhere to NCCU's suggested pathway. Already, NCCU's five-year graduation rate of 52.4% exceeds the university's 2022 goal by a significant margin. The university's current Quality Enhancement Plan has a theme of "Soar in Four." This plan is designed to increase student achievement and focuses on improving the university's four-year graduation rate. In an effort to address the numerous student support and achievement issues that directly impact time-to-degree completion, NCCU has representation in Navigate, the Educational Advisory Board's (EAB) Student Success Collaborative. This collaborative provides a platform that combines research, technology, and predictive analytics to assist NCCU in proactively managing student success and timely degree completion for our students. In addition, the university is strengthening its upper division academic advising process by providing more full-time, professional academic advisors. NCCU has demonstrated its success by exceeding its annual benchmarks for this metric for the past two cycles. A number of student and academic success initiatives, including the First-Year Seminar and Sophomore Success Initiative, are designed to improve retention and graduation rates.
Click here to edit the advanced iframe block.
---
Undergraduate Degree Efficiency
By 2021-22, NCCU will improve its undergraduate degree efficiency to 20 over a base of 17.4.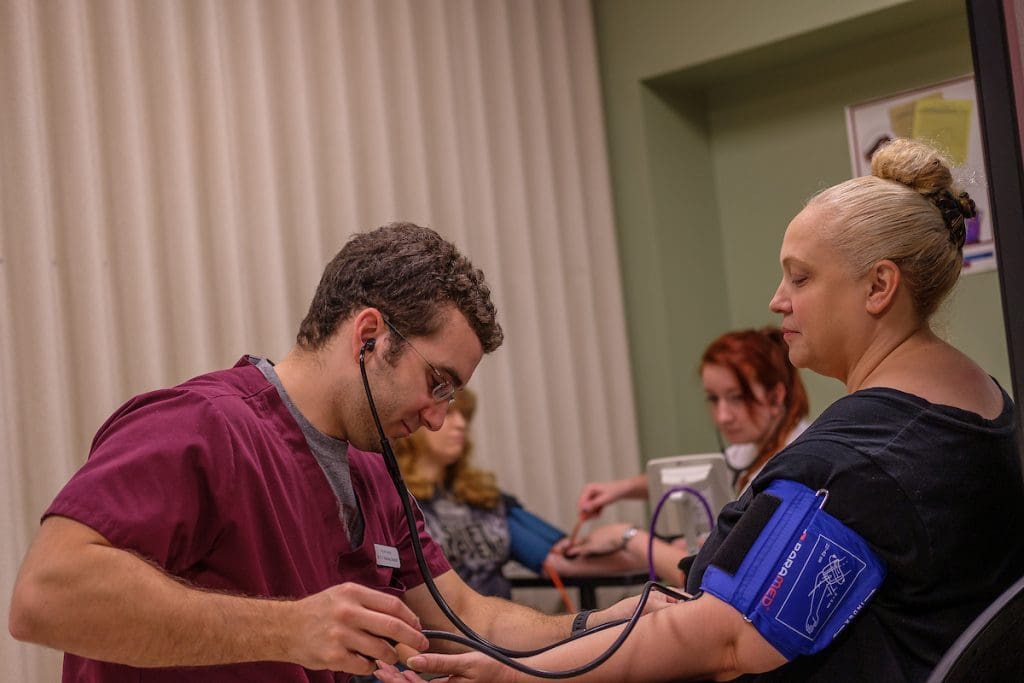 From North Carolina Central University: The university continues to work to ensure that the number of students who graduate increases and that these students graduate in a timely manner. NCCU attained a slight decrease in degree efficiency in 2019-20, but remains 4% above its baseline. In addition to the onboarding process for first-year students in our University College, students also receive academic advising and support in their academic departments. Furthermore, NCCU has increased the number of transfer students who have applied to and enrolled in the university as a result of articulation agreements and memoranda of understanding (MOUs) with targeted community colleges in North Carolina and California. Transfer students take full advantage of the array of services offered in the Office of Transfer Services, which supports them from enrollment to graduation. In January 2020, the university signed an MOU with Vance-Granville Community College (VGCC) to expand the Eagle Voyage partnership as part of the North Carolina Pathways to Success program. This agreement established a pathway for graduates of VGCC's Associate of Applied Sciences degree to transfer into NCCU's Bachelor of Science in pharmaceutical sciences program.
Click here to edit the advanced iframe block.
---
Achievement Gaps in Undergraduate Degree Efficiency
By 2021-22, NCCU will reduce by 50% the achievement gap in undergraduate degree efficiency between low-income and non-low income students.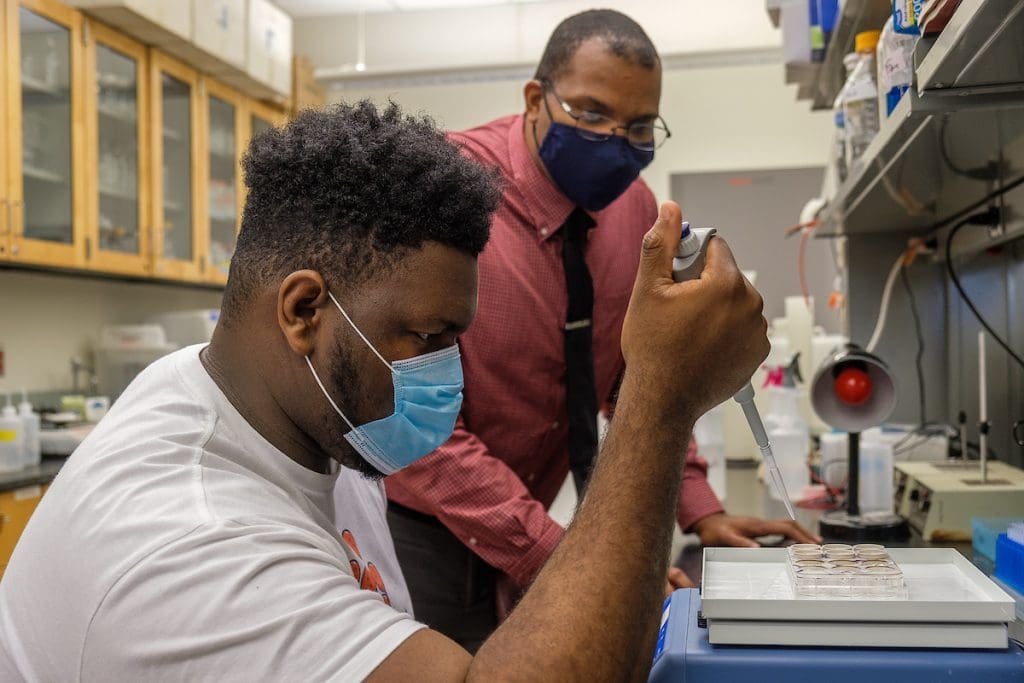 From North Carolina Central University: As noted above, the number of students earning degrees at NCCU has increased overall; however, given the fact that nearly 56.4% of NCCU students receive Pell Grants, the university is looking at ways to ensure that students who are from low-income backgrounds earn degrees at a rate that is on par with the overall student population. NCCU has a number of support programs and initiatives targeting these students, such as the Aspiring Eagles Academy for low-income, first-generation students. This program includes leadership training, a living-learning community, cultural enrichment, study and travel abroad, intrusive academic counseling, and focused academic support. Additionally, the university utilizes the Men's Achievement Center, which supports the success of male students from communities of color. This center strives to deliver academic, social, and personal support via the use of research, theory, co-curricular development, and experiential learning. Additionally, programs offered through the Division of Student Affairs include the Annie Day Scholars Program, which is a living-learning community that strengthens female students with mentoring and professional development. NCCU offers the Cheatham-White Merit Scholarship Program, a fully-funded merit-based scholarship program created in 2017 by the N.C. General Assembly for first-time freshman at NCCU and N.C. A&T State University.
Click here to edit the advanced iframe block.
---
Improve
Low-income Enrollments
By fall 2021, NCCU will enroll 3,933 low-income students, a 6.2% increase over 2015 levels (231 additional low-income students over a base of 3,702).
From North Carolina Central University: NCCU seeks to provide access to higher education to students throughout North Carolina. The challenge of promoting greater access to higher education is not only related to academic access, but also to financial access. Given the number of Pell-eligible students on campus, it is imperative that special attention is paid to tuition, fees, and other costs of attendance. The university will continue to find ways to present low-income students with opportunities to enroll in and graduate from NCCU. The university has several initiatives designed to support students through graduation, such as The Finish Line, which helps students to complete their senior year.
Click here to edit the advanced iframe block.
---
Critical Workforces
By 2021-22, NCCU will produce 605 critical workforce credentials, an increase of 43.4% (183 additional critical workforce credentials over a base of 422).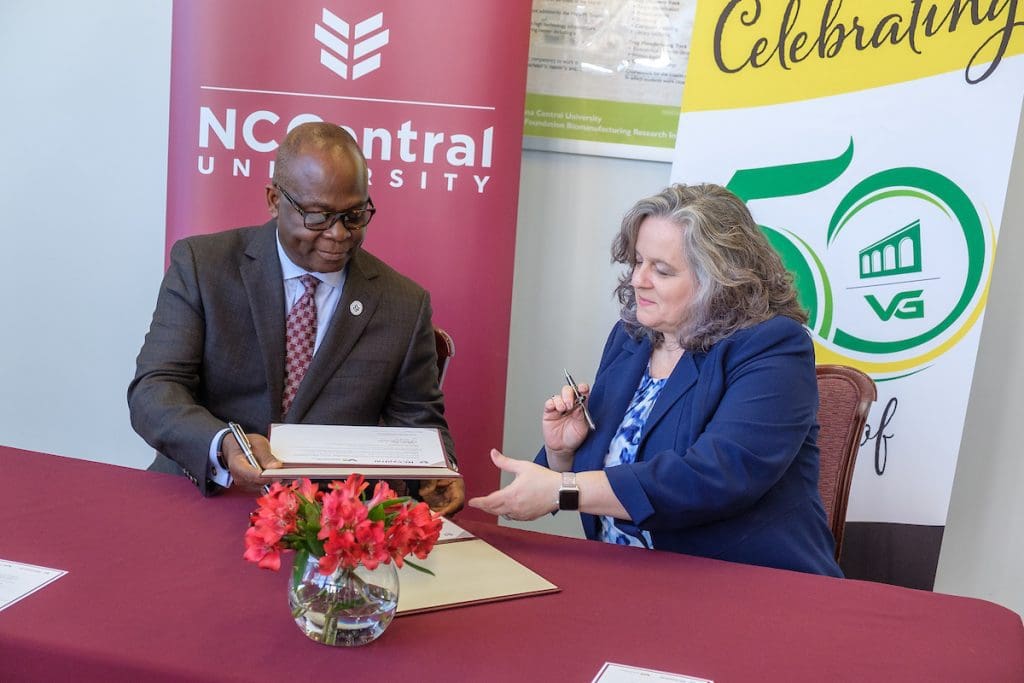 From North Carolina Central University: Currently, NCCU offers undergraduate and graduate degree programs in several critical workforce areas associated with STEM disciplines, nursing, and education. In addition to current offerings, the university also offers new programs in clinical research, higher education, mathematics, biomedical sciences, information technology with an emphasis on cybersecurity and data analytics, sports medicine and assistive technology in visual impairment. NCCU continues to expand its online degree portfolio to meet the needs of the current and emerging marketplace. The university continues to award degrees in critical workforce areas and has graduated 10 students who have earned the Ph.D. in Integrated Biosciences.
Click here to edit the advanced iframe block.
---
Research Productivity
By 2021-22, NCCU will receive $21,611,020 in research and development sponsored program awards and licensing income, an increase of 10.2% ($2,000,294 additional over a base of $19,610,726).
From North Carolina Central University: NCCU is committed to providing innovative research in the area of health disparities. The Biomedical / Biotechnology Research Institute (BBRI) and the Biomanufacturing Research Institute and Technology Enterprise (BRITE) lead the way in sponsored research at the university. Scientists affiliated with the institutes and faculty from STEM-related areas have earned research awards from the National Institutes of Health, National Institute on Minority Health and Health Disparities, the National Science Foundation, and other prestigious agencies. The university has expanded its research infrastructure to promote and accommodate an increase in the number of research proposals. Workshops and seminars designed to introduce faculty to the common guidelines and procedures associated with federal funding agencies have contributed to an increase in the number of proposals being submitted by NCCU faculty. To support faculty research productivity, NCCU provides mini-grants and innovation funds specifically targeted to motivate junior faculty to write more competitive grant proposals. During the 2019-2020 academic year, the university generated $34.3 million in grants and outside funding sources for research, up from $33.1 million in 2019. For example, NCCU and RTI International expanded a formal collaboration to increase sponsored research, provide training and exchange opportunities, and collaborate on workforce development initiatives. NCCU is also on track to again exceed the goal for the 2020-21 cycle.
Click here to edit the advanced iframe block.
---
Sustain
Rural Enrollments
By fall 2021, NCCU will enroll 1,881 rural students, a 4.7% increase over 2016 levels (85 additional rural students over a base of 1,796).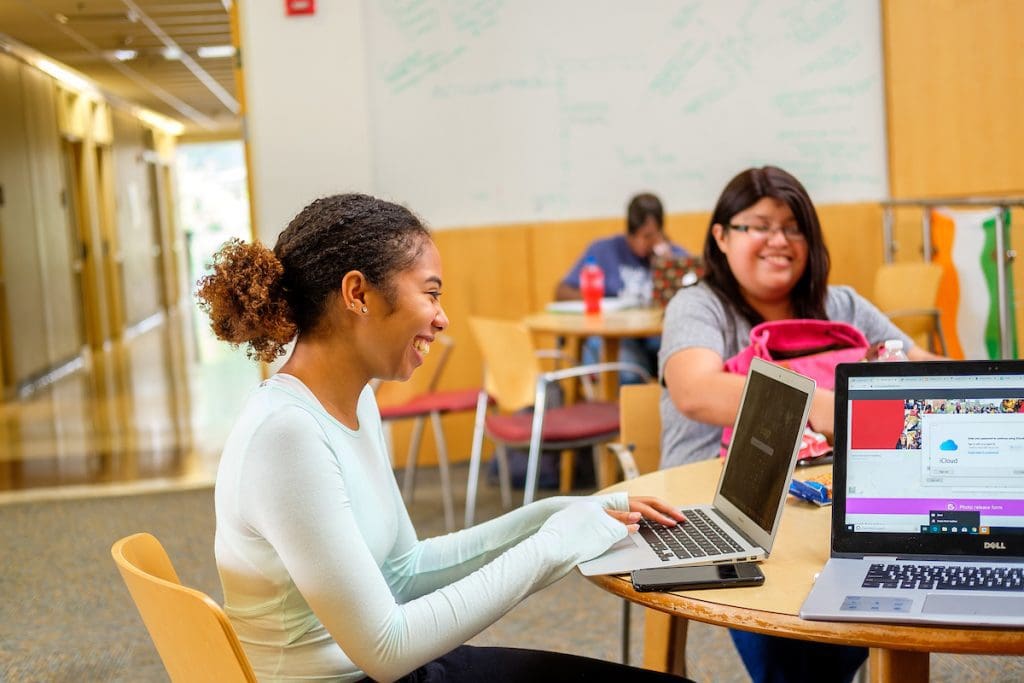 From North Carolina Central University: Both the enrollment and the academic success of students with rural backgrounds are of paramount importance at NCCU. The university has expanded private visits to rural high schools and community colleges. NCCU has also refocused its recruitment process at virtual outreach activities and college fairs in rural communities based on geographic analysis of applicants and admitted students from the fall 2019 and fall 2020 classes. As such, the university has made strategic investments in the recruitment of students from these underserved areas of the state. Forty-two percent of students enrolled in the fall 2020 first-year class are from rural areas of North Carolina.
Click here to edit the advanced iframe block.