Marian Drane Graham Scholars Program
The Marian Drane Graham Scholars Program is an eight-week immersive and experiential summer program designed to provide students the opportunity to develop leadership skills and gain a better understanding of key issues facing public higher education. The program is open to rising juniors and seniors attending one of the sixteen constituent institutions of higher education in the University of North Carolina. Scholars are mentored by UNC leadership, spend time in the UNC System offices in Chapel Hill, NC, travel to UNC campuses, visit with key NC policy leaders and elected officials in Washington, DC.
Scholars have the opportunity to work in a state government agency approximately thirty-two hours per week to further their knowledge of how higher education impacts the state of North Carolina. Finally, the Scholars will work on and present a capstone project on a topic of their choosing. Through these experiences, it is anticipated that each scholar will develop a deep appreciation for the complexities of higher education and state government.
2022 Marian Drane Graham Scholars
Avangelyne "Angel" Padilla is from Jacksonville, NC.  Ms. Padilla is a Social Work major with a minor in Africana Studies at the University of North Carolina Charlotte.  She will be working with the North Carolina Business Committee for Education through the Governor's Office.
Charlie Sams Hammerle II is originally from Midland, Texas.  Mr. Hammerle is majoring in Mathematics with a Teaching Licensure Concentration at Fayetteville State University.  Mr. Hammerle is a veteran and will be working with the North Carolina Department of Military and Veterans Affairs.
Jeremiah Christopher Williams is from Raleigh, NC.  Mr. Williams is majoring in Political Science with a minor in History at the University of North Carolina Charlotte.  He will be working with the North Carolina Community College System Office.
Sarah Elizabeth Tisinger is from Belville, NC.  Ms. Tisinger is majoring in Emergency and Disaster Management with minors in International Studies and Leadership at Western Carolina University.  She will be working with the Department of Public Instruction.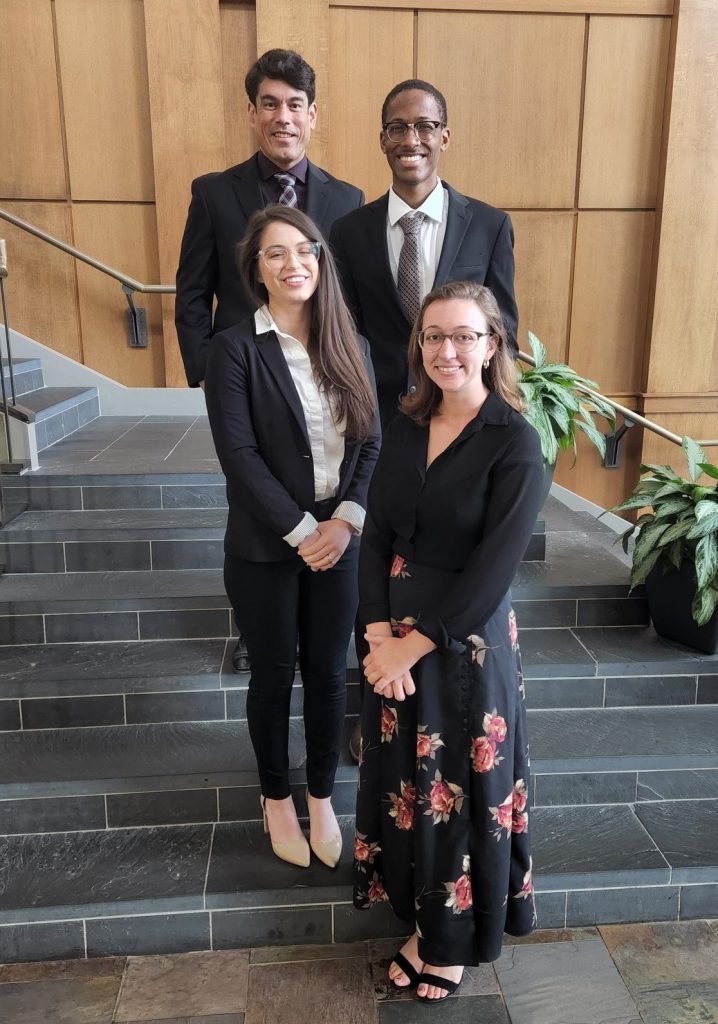 Front L-R: Avangelyne Padilla, Sarah Tisinger; Back L-R:  Charlie Hammerle, Jeremiah Williams
The Scholars will be presenting their independent Capstone Projects in a Poster Session in July.  The 2023 Marian Drane Graham Scholar applications will be available December 2022.  For more information, contact Kim Mitchell at klmitchell@northcarolina.edu.
Past Scholars
William Teasley, 2021 MDG Scholar, is quoted in the Inside Higher Ed article below on food insecurity. His MDG Capstone topic was on food insecurity and looking at UNC System student food banks.
https://www.insidehighered.com/news/2022/01/24/report-hbcu-students-struggle-food-and-housing