The Digital Learning team is pleased to announce a new resource for the UNC System Community…the "Right to the Point" video series. The videos, created by our Associate Faculty Fellows and directed by Faculty Fellow Dr. Ellen Pearson, are short, usually two minutes, but rarely more than five, that are narrowly focused on a single education problem of practice and their technological and pedagogical solutions. The videos are designed to give educators access to prescriptive guidance created by other faculty members that address issues, or opportunities, they may confront them in digital education. Given their brevity, they do not require a significant commitment of time by educators but instead, can be consumed whenever a few spare moments are available and the faculty member wants some help in improving their Digital teaching capabilities.
If you have suggestions for future videos, or would like to create one of your own for inclusion on this site, please reach out to me (jimp@northcarolina.edu).

---
Start Here! This video provides a short overview on the purpose and format of the Right to the Point Series
---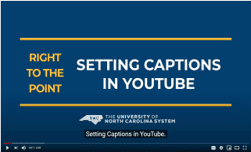 Captions on videos greatly improve accessibility and are being a requirement on many websites. Associate Faculty Fellow Dr. Thomas Rogers demonstrates who to add captions to your videos.
---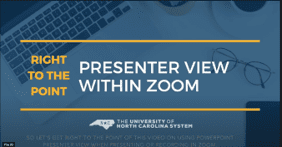 Associate Faculty Fellow Dr. Elain Bbohorquez demonstrates how to set-up "Presenter View" in PowerPoint and Zoom in order to support online teaching.
---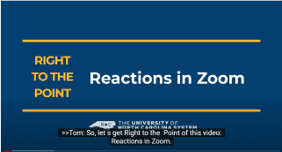 Sometimes it is helpful to allow webinar participants show their quick reaction to discussion or presentati0ons. In this video, Associate Faculty Fellow Dr. Thomas Rogers demonstrates the use of "reactions" in Zoom.
---