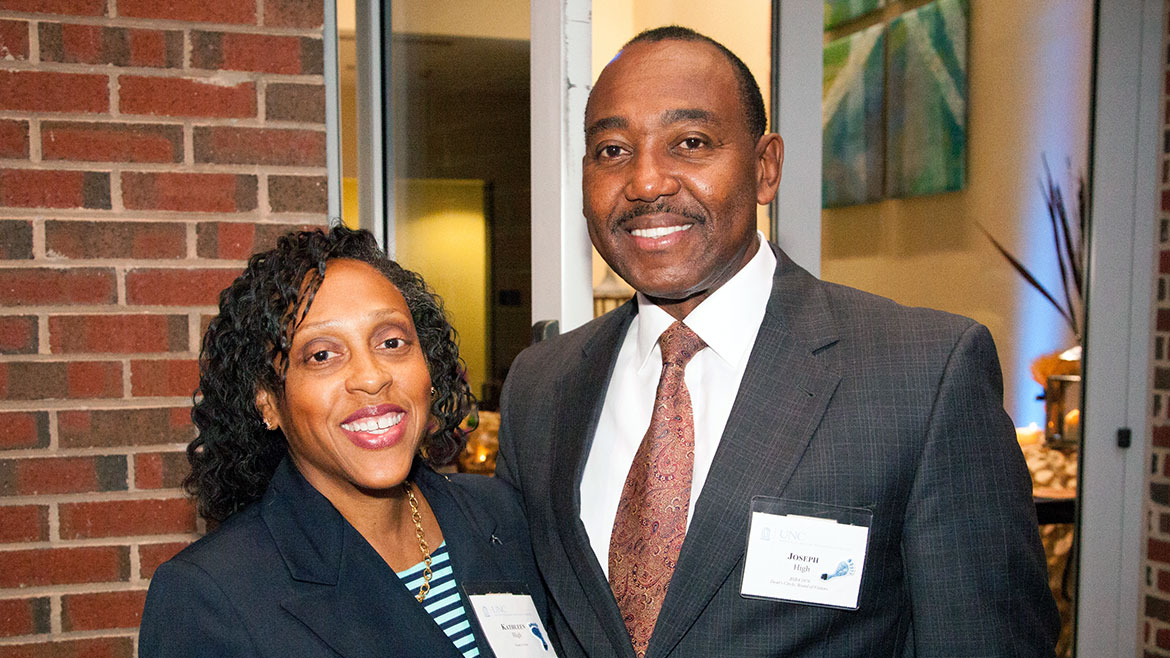 Joseph High (BSBA '76) knows there's strength in inclusion and diversity.
That's why High, senior vice president and chief people officer at W.W. Grainger, Inc., is a strong advocate for education and broadening others' horizons. As a former recipient of UNC's Marvin B. Smith Jr. Memorial Scholarship and proud Tar Heel alumnus, he's especially passionate about providing access and opportunities for students from different cultures and socioeconomic backgrounds to pursue their education at Carolina.
High and his wife Kathleen (BA '78) are the first African-Americans to create an endowed scholarship at UNC Kenan-Flagler. The Joseph Cooley and Kathleen Cullins High Koinonia Scholarship provides yearly funding for the Undergraduate Business Program's annual Global Immersion Elective in South Africa.
The scholarship honors the spirit of koinonia, or fellowship – a faith-guided principle that the Highs practiced and embraced during their undergraduate days at Carolina.
"We both led and participated in a fellowship of black Christian students that nurtured and taught us how to participate in the lives of others in an authentic, meaningful and productive way. Koinonia is a core value that we continue to practice in our family and encourage in all of our relationships," says High. "For us, fellowship only becomes real and purposeful when you genuinely learn how to love, give, serve, support, care for and encourage others."
Giving back is one way for the Highs to fulfill that mission. At UNC Kenan-Flagler, High serves on the Board of Visitors, supports the Hodges Leadership Center and participates on Leadership Day. The Highs are also longtime donors, helping fund other Undergraduate Business study abroad trips to South Africa.
Their generosity has made a lasting impression on students like Taylor Walker (BSBA '15), who received a study abroad award funded by a gift from the Highs. High and Walker share the same hometown of Wake Forest, N.C.
"I am so grateful that someone thought highly enough about this program – and of me – to see the value of me going abroad and financially assisting me in that capacity," says Walker. "I saw firsthand how someone can have an impact on your experience at UNC Kenan-Flagler and how they can change and develop you as a person. It definitely makes me want to be able to have that same impact on someone else, to give back and instill some value in someone else's future."
Seeing their gifts in action inspired the Highs to consider how they could make an even greater impact. Creating this endowed scholarship, they realized, would not only help recipients, but also make an impact on the entire Business School community and beyond.
"UNC Kenan-Flagler must produce leaders who have the will and competence to lead well in an increasingly diverse environment where economic education and health disparities are high and civility and tolerance are low," he says. "These circumstances have created an urgent need and opportunity for UNC Kenan-Flagler and the Leadership Initiative to show the way. This scholarship will enrich the learning environment by increasing students' exposure to a broader mix of people and cultural experiences."
"I had heard such wonderful things about the opportunities and lifelong experiences that UNC Kenan-Flagler's international study programs provide," says Anna Taylor (BSBA '18), who was accepted to the Business School through the Assured Admissions Program. "I was excited to explore the options. The South Africa GIE was my ultimate goal, but I never thought I would be able to afford a study abroad program – let alone one to South Africa."
The Highs' gift changed that. Taylor was selected as the inaugural recipient of the Koinonia Scholarship.
"Through this scholarship — my first study abroad experience — I will be able to apply the information I glean to my business and public policy classes as well as increase my understanding and tolerance for people of other cultures."