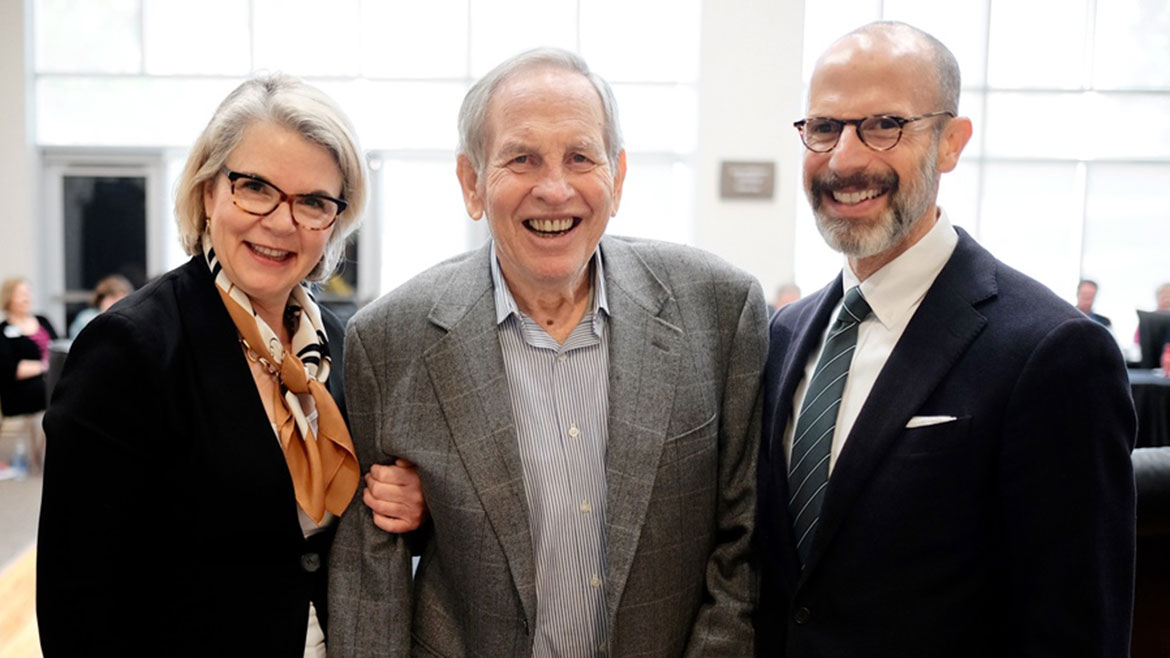 A $5 million pledge from Chancellor Emeritus Alex Ewing is the lead gift in a comprehensive fundraising campaign by the University of North Carolina School of the Arts (UNCSA). Chancellor Lindsay Bierman announced one of the largest gifts in the 50-year history of the school and will result in the renaming of the largest performance venue on campus.
Performance Place, which contains Gerald Freedman Theatre, Catawba Theatre and Patrons Theatre, will be named Alex Ewing Performance Place, Bierman said. It is the primary training facility for the schools of Drama and Design & Production, and also hosts performances by the School of Music, including the Jazz Ensemble and opera productions.
"We're profoundly grateful to Alex for his continued support of the School of the Arts," Bierman said. "This transformative gift will launch our campaign which will include support for student scholarships, faculty, endowments, educational programs, and critical upgrades to our facilities."
The $5 million gift comes on the heels of a $1 million gift from Ewing that will be devoted to scholarships beginning Fall 2016. Both were announced to the UNCSA Board of Trustees in May, with the $5 million gift being attributed to an unnamed donor. Also announced at that time was a $250,000 gift, also from an unnamed donor, for a scholarship in the School of Drama, and an event that raised $200,000 to fully endow the Gillian Murphy Scholarship in Dance, named for one of the school's most celebrated alumni.
"We can expect great things under Chief Advancement Officer Edward J. Lewis' leadership as he builds the capacity of his team," Bierman said. "We look forward to sharing more about our campaign, and more good news, in the months to come. It's an exciting time for the School of the Arts."
Ewing served as chancellor from 1990 to 2000. During his tenure, he founded the School of Filmmaking, where the three-theatre exhibition complex is named ACE (for Alex C. Ewing) in his honor. He also established the Lucia Chase Endowed Fellowship in Dance, named for his mother who was a principal dancer and longtime artistic director with American Ballet Theatre. The fellowship annually provides funding for world-renowned guest artists in the School of Dance.