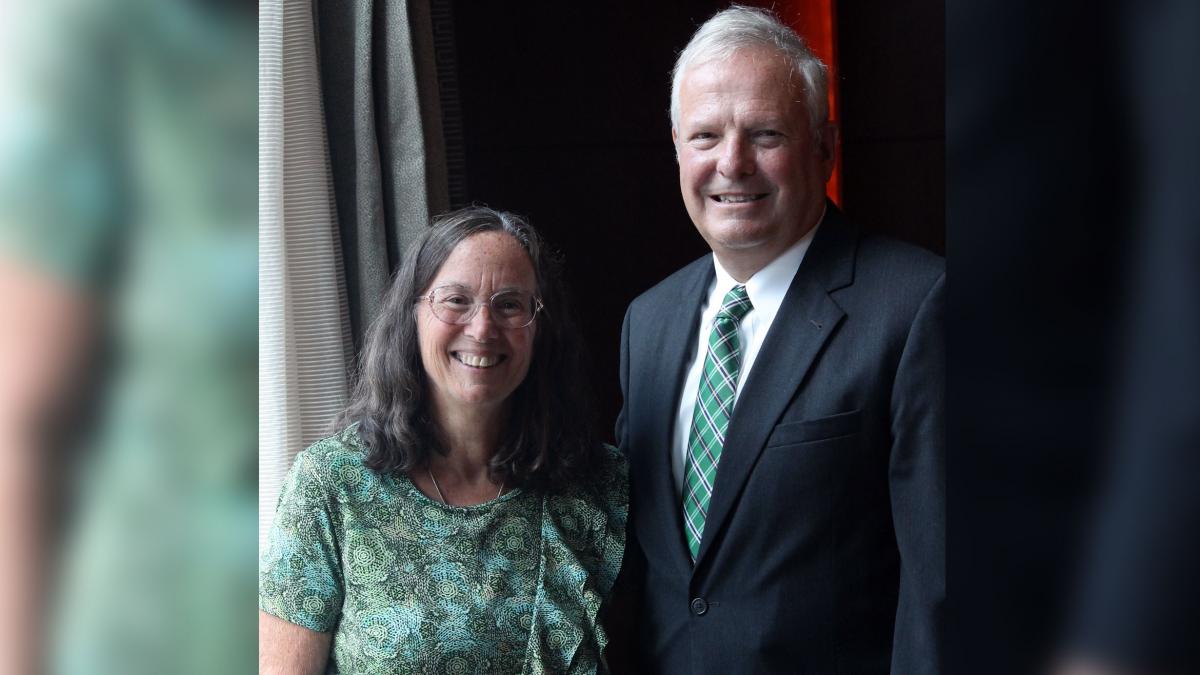 Under One Roof
By Lisa Thornton
When David Hauser ('77) attended the inaugural Charlotte 49ers football game in 2013, he looked around the crowd in awe of the nearly 17,000 spectators brought together by the pigskin flying up and down the field.
"It was an amazing day for those of us that have been involved in the University in a variety of ways for many years," said Hauser, who has played an important role within a large crowd of people leading the charge to create opportunities for Niner Nation to come together on campus.
The UNC Charlotte alumnus and current Board of Trustees member hopes for the same effect with the new Hauser Alumni Pavilion that debuted in August 2015. The 8,000-square-foot steel structure to be used for pregame tailgating during football season has enough space to accommodate 700 people.
Situated along the pedestrian path between the main campus and Jerry Richardson Football Stadium, the pavilion offers a catering station, restrooms and electricity to support outside entertainment. During the offseason, the facility is available for alumni, faculty, staff and students to rent for events.
Generous Gift
Hauser sees multiple benefits for the pavilion, which he and his wife, Nancy ('77), helped to provide through a generous gift to the University.
Some of those benefits are more obvious than others. Many students look forward to tailgating before football games and will take advantage of the venue. Also, the new facility will draw alumni back to reconnect with old classmates.
But the benefits that come from the connection of the two — alumni and current students — will generate even more positive outcomes from underneath the pavilion's lights and ceiling fans, Hauser believes. He hopes the pavilion will facilitate communication between the two groups, allowing for networking and mentoring.
These are not always easy connections to make, even though both parties are often interested, he said.
"The challenge is figuring out a way to get engaged with young people, because somebody that is 50 is perfectly willing to talk to somebody that's in college and 20 — and that mentoring and networking lead to greater success," he said. "The University can be a great avenue to make those connections, which are terrific for the young people, but also are terrific for the people who have already had some success, too."
He knows because he's experienced it first hand.
Hauser came to Charlotte in 1973, shortly after graduating from Furman University with a Bachelor of Arts in Business Administration. He earned his master's degree in business from the Belk College of Business at UNC Charlotte in 1977, which helped to launch him into high-level executive positions, including chairman and CEO of FairPoint Communications and chief financial officer of Duke Energy.
Although his career and family kept him busy, Hauser gave back to the University. When he taught a finance course at Belk College of Business, he frequently used his connections on Wall Street to bring in bankers and bond analysts to share experiences with his students.
'Wonderful Experience'
"That was a tie I had to the professional community that most people couldn't bring in, and they thoroughly enjoyed talking to the students," said Hauser. "It was a wonderful experience, and I thoroughly enjoyed interacting with the students."
Now retired, Hauser has continued to strengthen his ties to the University. For several years, he's served on the Board of Trustees. He also helped bring football to campus. In 2009, Hauser served as one of the executive chairs on the 49ers Football Fundraising Capital Team.
"College football is something that people thoroughly enjoy over a Saturday afternoon, whether they're watching in person somewhere or watching it on TV," said Hauser. "It brings a lot of name recognition to the University, and I think that's positive."
He recommends others find their passion and give back, too. "If something is important to you, you should get involved," he said. "Sitting on the sidelines and critiquing is not really very helpful. I encourage people to get involved — in the University and in whatever their other passions are in life."
For Hauser, that's in part, helping Niner Nation come together.
"I thought they did a great job," he said of its conceptual design and architectural style, which blends well with the rest of the campus.
"We're calling it an alumni pavilion," said Hauser. "But I think it will be much more than that."