Member

All Members
James L. Holmes, Jr.
James L. Holmes, Jr., of Raleigh, was appointed by the NC General Assembly in 2015 and reappointed in 2019 to serve on the Board of Governors of the University of North Carolina System. His term will end in 2023.

Holmes is chair of the Budget and Finance Committee, secretary of the Historically Minority-Serving Institutions Committee, and serves on the Audit, Risk Management, and Compliance Committee.

As the founder and managing partner of Sentinel Risk Advisors, LLC, he oversees operations and development for one of the fastest growing independent risk management and insurance firms in the Southeast. Sentinel's client portfolio includes some of the largest and most complex firms in the Carolinas. Holmes represents clients and industries ranging from multinational operating companies to investment firms to holders of commercial real estate and more.

With more than 20 years' experience as a corporate finance expert and certified public accountant, his career has taken him across the US and abroad. Before founding Sentinel, Holmes rose to influence at other firms in the manufacturing, insurance, and financial sectors, in roles ranging from controller to vice-president, director of operations to chief operating officer.

Holmes, a Johnston County, NC, native, is a strong believer in building communities. He co-founded the non-profit Fostering Bright Futures, which helps foster children make a successful transition into adulthood, and has held seats on numerous boards, commissions, and non-profit organizations.

Holmes holds a bachelor's degree in business from North Carolina State University and received his accounting certification from Guilford College.

His advice for today's college students:

"Make the most of your time in college by doing two important things. First, put your talents to use by volunteering your time with a service club or group on campus whose mission speaks to you. And second, take up a new skill--a sport or a hobby of some kind--that scares you a little bit. Life is a balance of those two things---serving others with the God-given talents you were born with and taking care of yourself by seeking out new challenges and opportunities."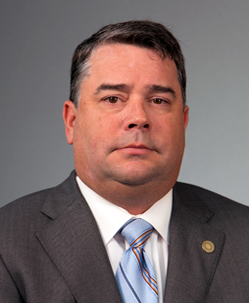 Committees
Secretary, Committee on Historically Minority-Serving Institutions