H. Frank Grainger
H. Frank Grainger, of Cary, NC, was appointed by the North Carolina General Assembly in 1997 and reappointed in 2001, 2005, 2011, and 2015, to serve on the Board of Governors of the University of North Carolina System. His term will end in 2019. He is the longest serving member of the Board with more than 20 years of experience.

Grainger currently serves as the secretary of the Committee on Personnel and Tenure. During his tenure on the Board, he has served on a variety of committees. Currently, he also serves on the Subcommittee on Laboratory Schools.

Born, raised, and educated in North Carolina, Grainger is the founder and owner of Fair Products, Inc. He began his career in agricultural chemical sales in the 1960s with Borden Chemical Company and Kerr McGee Oil Company. He then moved to Mobile Oil Company and later joined Proctor and Gamble, where he expanded agricultural sales to 23 states and 64 countries. After 12 years of traveling all over the world, he joined Fairmount Chemical Company in New Jersey. He purchased the company in 1984, renamed it Fair Products, Inc., and established a sales office in Cary, NC, and a manufacturing facility in Wilmington, NC.

With over a four-decade career, he continues to be a leader in agribusiness, economic development, and public service. His professional career spans his pursuits in the agricultural chemical field, state and federal legislative activities, and his public service commitments in the field of higher education.

He is proud of his service to the UNC System and is a consistent voice for public higher education. He is a co-founder and former chairman of the NC State University Economic Development Coalition 2000, a former member of the Wolfpack Club Board of Directors, a former member of the College of Education Advisory Board, and the J.C. Raulston Arboretum Board of Directors.

In 1998, he received the NC State Alumni Association's Honorary Alumnus degree for outstanding leadership, service, and commitment, and in 2008, he received the Alumni Association's Award of Merit.

He has worked tirelessly with state and federal government on behalf of North Carolina farmers and became the founding director of the Tobacco Growers Association of North Carolina. Among his many accolades for contributions to the industry, Grainger was named the NC State University Tobacco Great in 2001 and is the recipient of the association's President's Award, the NC Agricultural Foundation's Deans Bronze Circle, and a Distinguished Service Award.

In 2010, he received the prestigious Watauga Medal from NC State University, and in 2011, he and his wife received the Outstanding Volunteer Award from NC State's College of Agriculture and Life Sciences.

Grainger has been active in public service most of his life. Most recently, he served on the Commerce Transition Advisory Committee for Gov. Pat McCrory and has served as Chair of the NC Sportsman Caucus for the Senate and House. In addition, Grainger is a board member of the North Carolina Tobacco Foundation, Inc. and the NC Biotechnology Center.

Grainger has two children and is married to Judi Keever Grainger.

His advice to today's college students:

"Today's student can never be prepared enough for the college experience. I've traveled to 64 countries, and I've seen a lot. Children around the world don't have access to the kind of education we have here. The one thing I believe in is that our citizens, in North Carolina and in the US, must be educated. I encourage it. We have to make sure that we educate our young people and make them aware of what's going on in the world. The better prepared they are, the better they will do."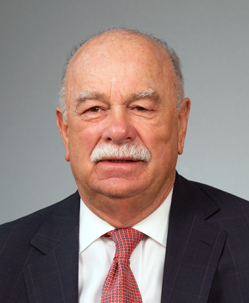 Committees
Subcommittee on Laboratory Schools
Current Term
2015 - 2019